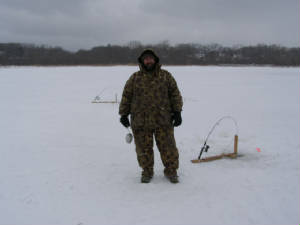 CLOTHING AND STUFF YOU SHOULD HAVE ON YOUR PERSON
Dress warm, dry, and in layers - Insulated wind-proof and water resistant - Hoodies are nice

Insulated water-proof boots - felt pack type or Mickey Mouse are most popular

Hat, facemask, or balaclava - a LOT of body heat is lost through the head

Baseball or other billed cap - in case a heavy hat gets TOO warm

Gloves and SPARE gloves - fingerless wool for fishing are nice

Scarf or neck protector - wind and/or snow down the back of the neck is VERY CHILLING

SUNGLASSES - SNOW BLINDESS SUCKS!!

Spare bag of clothes (including towel) in car - JUST IN CASE you get wet

Don't wear the boots you will fish in driving to the spot (gives you spare DRY shoes or boots in car)

Ice cleats (Creepers) or cleated boots - CONCUSSIONS SUCK!!

Ice picks - pieces of broom handles with nails will work as will old screwdriver

One handed pocket knife - you should ALWAYS carry a pocketknife according to grandpa

Whistle and a compass - WHITE OUTS REALLY SUCK!!

Flashlight - L.E.D. headlamps work great

IF FISHING ALONE - Flotation Vest - PFD - you can wear one under your parka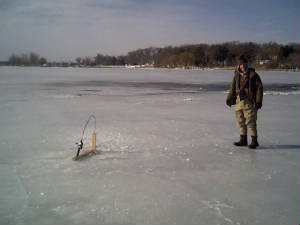 FISHING ACCESSORIES aside from rods, reels, Slammer Tip-Ups, and terminal tackle (Ice fishing depth finder, lures, hooks, leaders, line, split-shot, bobbers, and bobber stops etc ....)
Hole scooper OR TWO - preferably metal

Multi-tool w/ pliers, screwdrivers, scissors, hook sharpener etc. (Leatherman, Gerber, others) OR
pliers, scissors, screwdrivers (phillips and slotted), hook sharpener

Fishing towel - to wipe off goo

Jaw spreader and/or hook remover (depending on species)

Foam kneeling pad - Cardboard wrapped with duct tape also works

Rod holder or rod cradle (bucket mounted or free-standing) - I prefer a Slammer Tip-Up for a free standing hook-setting open ice rod-holder, the little red Tackle Tamer Rod-Holder for a bucket mounted in-shanty rod holder, and the Orangeville Hooker for a free-standing fold-up rod cradle

DO NOT LAY YOUR ROD ON THE ICE!!!
PAY ATTENTION TO YOUR ROD!! - IGNORANCE GETS RODS SUCKED DOWN HOLES!!!

Gaff - with TIP COVER!!

Stringer - good idea to stringer female steelies under the ice to keep them from freezing

Plastic bags - size according to fish species being kept - keeps the slime off the gear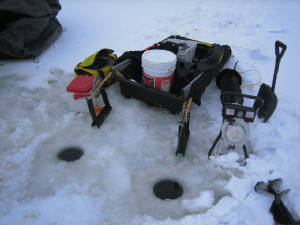 MORE FISHING ACCESSORIES - not always necessary, but things to consider if you want to catch more and bigger fish
Portable Depth Finder - Strikemaster PolarVision and others - size of a flashlight

Portable Fish Finder - Flashers are awesome i.e. Vexilar and Marcum - LCD's will also work

Underwater Camera - Aqua View is most popular with most models - Aqua Cam (from Menard's), Harbor Freight's camera, and Homier's cameras also work fine and have a Sony camera

Handheld GPS - to find the hot-spot

Lake Map - HotSpot fishing maps are about the best

Sled type flip-over shanty - Bring up again - also good for sight fishing

Artificial weeds - ReelWeeds, other commercially available - fish tank supplies, hobby shops for make your own structure

Hole Covers - Slamco lightweight, freeze-proof, folding, insulated, solar heated hole cover - avoid foam as it could get frozen into your hole

Wind-Jigging devices - Slamco Wig-Jigger attaches to your Slammer Tip-Up

Small snow shovel - nice for clearing an area for your stuff in heavier snow and/or slush

Snow brush - nice for dusting snow off accessories

Longer "stand up" rods for standing on the ice and fishing - good for moving from hole to hole while jigging - if you have the room and aren't in a shanty, a 4 to 6 foot rod works FINE ON THE OPEN ICE

Sitting on your ass in a shanty?? - use a short enough rod that's comfortable

SWISH RODS - for deep water perch fishing - they are hard to beat - if you know someone who has some and doesn't use and/or want them - BUY THEM!! Handicraft Industries is making them again!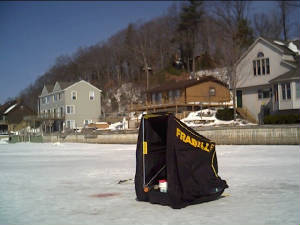 ICE CHECKING AND HOLE MAKING GEAR
Spud bar or Ice Chisel - CHECK THE ICE!!

Hand Auger - Laser Augers work GREAT

Spare Blades and tool for the screws of your hand auger are a good idea

Gas Power Auger - DON'T RELY ON JUST A POWER AUGER!! (Dave's last year on PM Lake ....)

Electric Ice drills - IceGator Power Head has VERY GOOD REVIEWS!!

Auger Adaptor's for Cordless Drills - Minimum 18V GOOD drill - 6" diameter hole OR LESS - Ice Master is best - has a collar and a strap that wraps around drill - most others (i.e. Nymrod) ARE A JOKE - loosens in drill chuck and you lose your auger head to bottom of the lake

Ice saw - for cutting spearing holes - CHAIN SAWS ARE A BAD IDEA!!

TRANSPORT GEAR
5-Gallon bucket OR TWO - preferably with lid - also acts as a seat

Plastic "milk" crates work nice as do plastic totes - lightweight, sturdy, and waterproof

SOLID minnow bucket or old cooler for live minnows - styrofoam liner in a 5-gallon bucket works fine - JUST a styrofoam bucket is NOT a good choice - battery operated aerators are nice too

Soft or hard cooler for spawn - DON'T LET YOUR SPAWN FREEZE!!!

Gear bag - keep your small itmes CONTAINED

Ice Fishing Rod Case - DON'T HAVE YOUR RODS AND REELS IN A MESS!!

Backpacks - work well for transporting gear

High walled sled - i.e. Shappel Jet Sled - Frabill, Otter, Viking

Bungie cords to secure your gear in the sled

Sled cover, plastic tarp, or even blanket to keep snow and slush off of gear in the sled

Snomobiles, ATV's, Utility Vehicles - WEAR YOUR HELMET !!! C.O. Chris Simpson will get you!!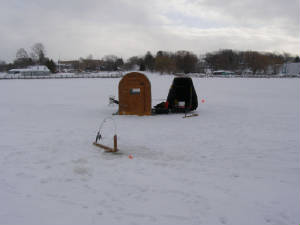 COMFORT GEAR
Snacks - something to drink and munch on

Propane or White Gas Heater - style, size and type depending - HAVE ADDIQUATE VENTILATION!!!

Gas Lantern - for light and/or heat

Lighters and Matches - a couple disposable lighters and some waterproof matches

Hand warmers - different types (Jon-E lighter fluid, charcoal stick, Liquid-filled bag w/ metal disc, disposable)

Toe Warmers - DISPOSABLE TOE WARMERS ARE A GOD SEND !!!!

Mittens are warmer than gloves

Hand muff that wraps around your waist (with a hand warmer works great)

Chair - usually more comfortable than a bucket

Portable Shanty - sled flip-over Lodge style works great - other types i.e. Muskegon manufactured Viking, accordian style Alumatents (make your own with plywood ends, canvas or plastic tarp middle and conduit pipe poles)

NOTE: Muskegon Awning's Lodge was available BEFORE the Clam flip-over type portable shanty

Permanent Shanties - Have to check on them almost every day
SAFETY GEAR - some good things to have handy in case someone falls in if you're away from the public - a good idea to be fishing with a buddy or a group as well
50' - 100' Rope tied to a boat cushion OR a manufactured throw bag
Snow shoes - weight distribution for rescue
Flares or flare gun
Emergency blanket
Cell phone