SLAMMER TIP-UPS
The ONE-N-ONLY ORIGINAL SLAMMER !!

The Slammer Tip-Up™ from Slamco utilizes a unique (and IMPROVED for 2011) Ring-Release mechanism and is highly adjustable for changing weather conditions, different spinning-rod lengths, and finicky fish. We recommend light action spinning rods in the 4 - 5 1/2 foot long range for most fishing with Slammer Tip-Ups™. We've found this length of rod to be IDEAL FOR STANDING ON THE ICE FIGHTING FISH - especially BIG FISH on light line!!.
Slammer Tip-Ups™ (a.k.a. slammers) use the natural flex of your rod along with the easily adjustable open coil Slamco rod-holder to achieve a "cocked" position. The slammer arm "slams" down onto the base for an audible signal when a fish hits .... FISH ON !!!
Slammer Tip-Ups™ also utilize a chartreuse or orange signal flag for that infamous "FLAG UP!!" which is commonly heard amongst tip-up fishermen.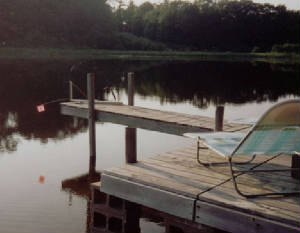 SUMMERTIME SLAMMIN' and Tip-Up fishing WITHOUT ice !!
Slammer Tip-Ups™ were designed for vertical fishing with live-bait through a hole in the ice, but can also be used when there's not ice for "dead stick" style fishing off of boats, docks, banks, bridges, etc. Care must be taken to firmly attach your Slammer Tip-Up™ to something so fish can't pull it into the water if they run out or to the side (impossible to pull a Slammer through a hole in the ice). This can easily be accomplished with the use of such items as C-clamps, rope, bungie cords, tie-down straps, a rod driven into the bank, duct tape, etc.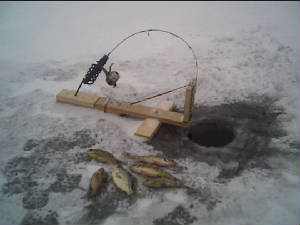 Although they say, "Imitation is the sincerest form of flattery" -
AVOID IMITATIONS OF SLAMMER TIP-UPS™ !!!
THERE IS DANGER !!!
There are "take-offs" of the Slammer Tip-Up™ and our prototypes using trip-wires and other mechanisms that are being marketed as "slammers", "slammer-style", or "just like a slammer" and even using parts of our original slogan - "Your Downrigger on Ice" - but THEY ARE NOT SLAMMERS. Most, if not ALL, of these devices hold your rod tip and compress your rod unnaturally, WHICH IS DANGEROUS and could BREAK THE TIP OFF OF YOUR ROD. One of the rod-tip breaking devices being copied is known as a "Tripper" due to the wrong pictures being published. Another manufactured device is a close take-off of the antiquated Whip-Up, which were hand-made to fit a particular solid fiberglass rod. Another we call a "Spooler" - if the fish doesn't pull hard and quick enough to yank your rod-tip off a peg - you could get your reel "spooled" before the fish breaks off. Most, if not ALL, of these home-made and commercially produced contraptions have a plastic or metal tube rod holder that is NOT adjustable, could break in cold weather, and could freeze your rod butt in solid. The open coil design of the Slamco rod-holder (derived from the Jo-Boy ICE FISHING rod-holders) eliminates rod-holder "freeze-up", is adjustable, and absorbs torque applied by big fish cranking on your rod.
TRIP WIRES (TRIGGERS) THAT YOU WRAP YOUR LINE AROUND, THROUGH, ETC. = LINE TANGLES AND BREAKAGE
"I AM FLATTERED THAT PEOPLE TRY TO MAKE "HOME-MADE" SLAMMERS - EVERY ONE I'VE EVER SEEN HAS DESIGN FLAWS" - MS
THESE "COPY-CAT" DEVICES APPEARING HERE AND THERE, COMPRESS YOUR ROD UNNATURALLY, PUT EXCESSIVE PRESSURE ON THE ROD TIP, AND COULD CAUSE YOUR ROD OR TIP TO BREAK !!!

Slammers are set to the NATURAL BEND OF YOUR ROD and operate like a "downrigger on ice"
Slammer Tip-Up™ Kits, Wig-Jiggers, and Hole Covers
Slammer Tip-Ups™ are available in complete and "kit" form. Slammer Tip-Up™ Kits provide an economical way to get Slammin' with you doing the construction instead of paying for it. Each kit contains a Slamco rod-holder, orange and chartreuse flag, and all of the hardware needed to build a Slammer Tip-Up™ along with detailed blueprints, illustrations, instructions, and helpful tips to get you Slammin'!! You need to provide a 3/4" thick, 8' long board; some basic hand tools; and some time to put your kit together. Multiple Slammer Tip-Up™ Kits are bulk packaged and contain only one set of instructions.
"Ready-to-go" Slammer Tip-Ups™ are individually hand-crafted out of a single piece of select grade Poplar hardwood.
ROD, REEL, AND FISH NOT INCLUDED
The Wig-Jigger is a wind operated jigging add-on that mounts to your Slammer Tip-Up's™ Slammer Arm and drops away when a fish hits.
We're also offering the Slammer Tip-Up™ Hole Cover. This lightweight fold-up solar heated hole cover is designed exclusively for use with Slammer Tip-Ups™.
Slamco - a GREEN COMPANY
Slammer Tip-Ups, Wig-Jiggers, Hole Covers, components and packaging are composed of biodegradable polypropylene, steel, wood, paper, and rubber.
Legal in most states and provinces - Check your local regulations